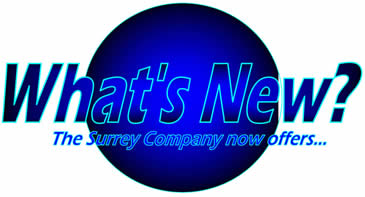 The Bar Cycle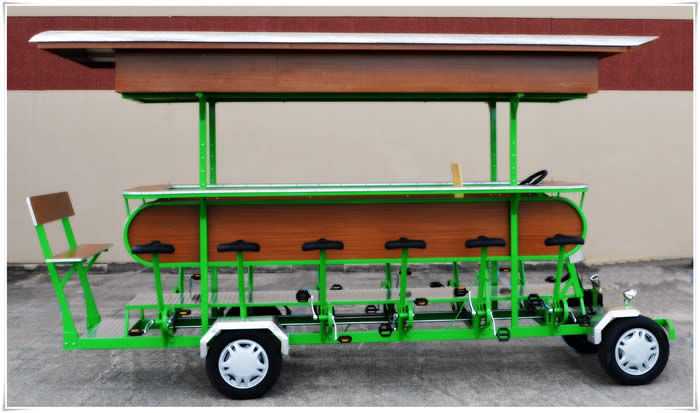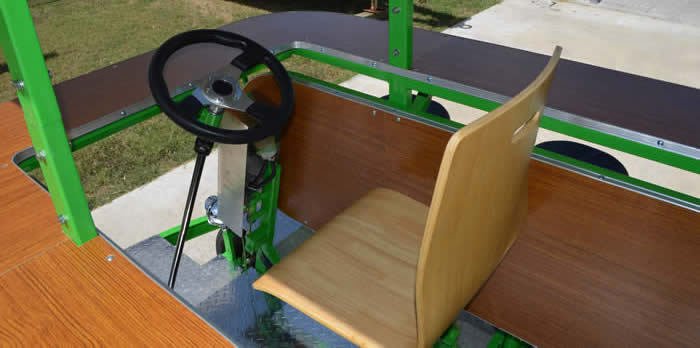 | | |
| --- | --- |
| | New Reduced Price! The beer bike is one of the newest concepts in leisure cycling. Beer bikes are enjoyed worldwide. This beer bike accommodates up to 15 passengers and 1 driver, who controls the steering and brakes. Built on a car chassis, this cycle is a well built unit that is motivated by 10 pedalers pedaling in a very low comfortable gear. You will be amazed at how easily this beer bike is moved along the street. This unit take 8-10 weeks to ship and is offered at a very reasonable price, $16,995.00. Others on the market sell for as much as $40,000. Please call for details about ordering! |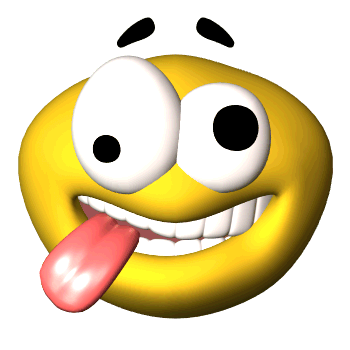 The Psyclepath Surrey Package is a customized package that can be performed on any Deluxe Surrey bike. The Psyclepath Surrey Package makes your new surrey bike crazy!

The package includes:

Custom three layer application powder coat, including a translucent layer

Customized aluminium alloy mag wheels color coded to the aluminium diamond plate floorboard

Custom brushed silver fender and panel overlay with pin stripping.

The package for the Surrey Deluxe is $1,500. The package for the Surrey Limousine Deluxe is $1,700. Please allow a minimum of 6 weeks for customizing.

Aluminum Alloy Mags are powder coated with a color to match the floorboard and to make the frame color really "pop".

All panels and fenders are dressed with a brushed silver overlay and custom pin stripping color coded to the frame color.

To order the Psyclepath Surrey Package, just mention it when you place your order over the telephone or add it to your shopping cart online. We will contact you about colors.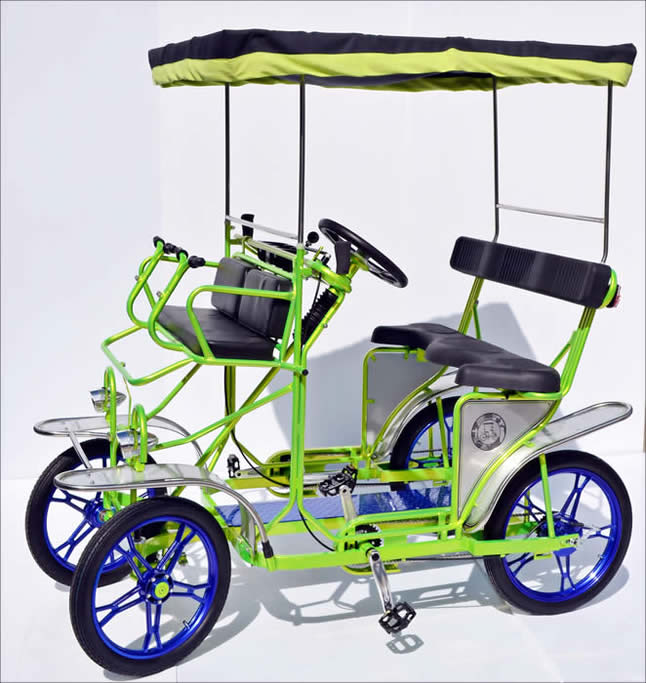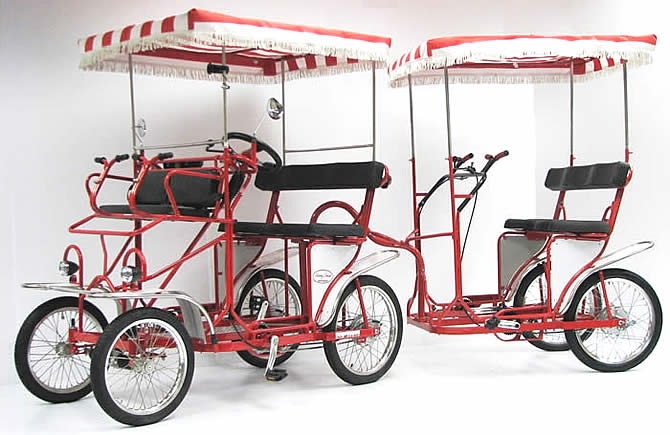 Above Surrey Tram pictured above attached to the Surrey Deluxe
International Surrey Company is excited to go back to the 1990's and reintroduce a unique and successful addition to our line of Surrey bikes. The Surrey Tram. The original Surrey Tram has been updated to hitch to any Surrey in the industry, no matter the size, model or make. The Surrey Tram connects to your Surrey as a self-propelled trailer for extra riders.
Have a single bench model but want to ride with family, friends and neighbors on occasion, but also do not want to pedal around an empty seat when alone? Need some additional flexibility in your Surrey rental fleet? The Surrey Tram is your answer.
The Surrey Tram is self-propelled with two sets of pedals and its own dual drum brakes. The Surrey Tram can be connected to any single bench, double bench and triple bench model.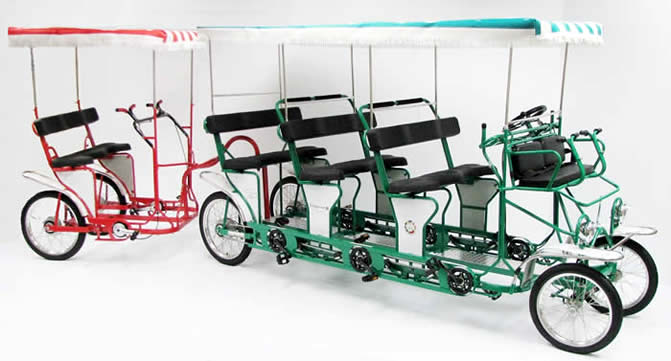 Above Surrey Tram pictured above attached to the Surrey Stretch Limousine Deluxe
Surrey Tram $ 1,695
(with the purchase of any Surrey Company product; add $200 if purchasing the Tram for a cycle you own)


The new Racer4 is a single person, four wheel cycle with unique rack and pinion steering. The adjustable recumbent seat makes the Racer4 fun for almost everyone. The mag wheels give the Racer4 a sporty look and performance.

This new model has limited availability!

So, place your order now!

$895.00 ( plus freight)
All Aluminum Alloy Surrey Mag Wheels...
The Aluminum Alloy Surrey Mags are now available for all three makes and models offered by The Surrey Company.

The Mags feature the following:

The Mag wheels can be substituted in place of the traditional spoked wheels or can be purchased as replacement wheels. The Mag wheels offer a different look compared to the traditional spoked wheels and over time will likely require less maintenance.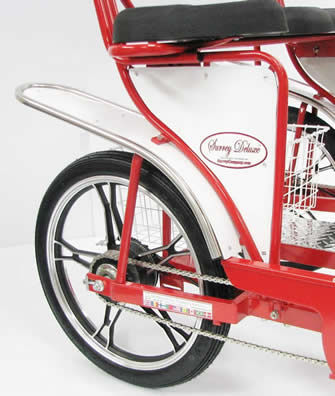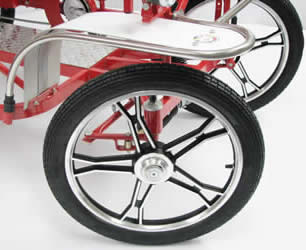 Electric Car, Low Speed Vehicle, Neighborhood Electric Vehicle
Available Now!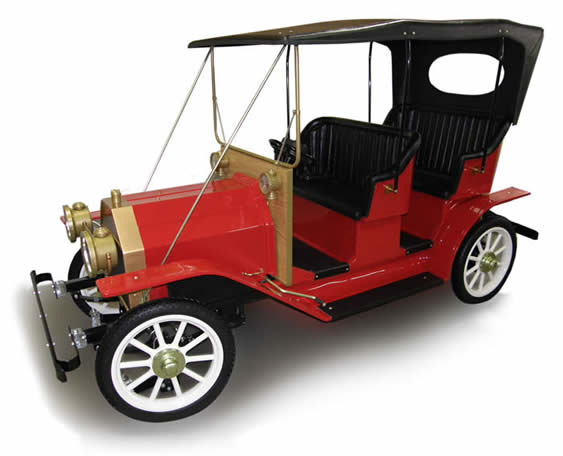 Only $12,995
The new 1913 Runabout is offered by International Surrey Company for homes and businesses alike. Whether for rental in a particular venue or for use around the neighborhood, the 1913 Runabout outclasses all other vehicles with its nostalgic look into the history of automobiles.
Battery Powered
36V motor with reverse [including all necessary wiring and connections], separate brake pedal. battery mounting area under seats

110V battery recharging system

Speed controller governed to max. speed 10 MPH

Automotive steering box

2.75 X 18 tires on removable cast aluminum wheels

Hydraulic rear brakes, heavy duty rear axle, 4.5 cm steel tube frame construction, shock absorbing bumpers, fiberglass bodies with durable gel coat finish

Coordinated ornamental accessories, front & rear lights, horn, park brake

Choice of 4 standard body colors

(red, blue, white and yellow)

240V charger available at extra charge

Requires three 12-Volt deep cycle batteries - not included due to hazardous goods shipping regulations

Available as a four seater (shown above) and a two seater (shown below)
Use in place of a golf cart in your neighborhoods (check local laws)
Gasoline Powered
9HP Honda gasoline engine (governed to 10MPH), forward & reverse transmission, separate brake pedal
Fiberglass bodies with durable gel coat finish
Coordinated ornamental accessories
2.75 X 18 tires on removable cast aluminum wheels
Hydraulic rear brakes, heavy duty rear axle, shock absorbing bumpers
Automotive steering box
Automatic centrifugal clutch, park brake
Front & rear running lights, horn
Choice of 4 standard body colors (red, blue white and yellow)
Available as a four seater (shown above) and a two seater (shown below)
Use in place of a golf cart in your neighborhoods (check local laws)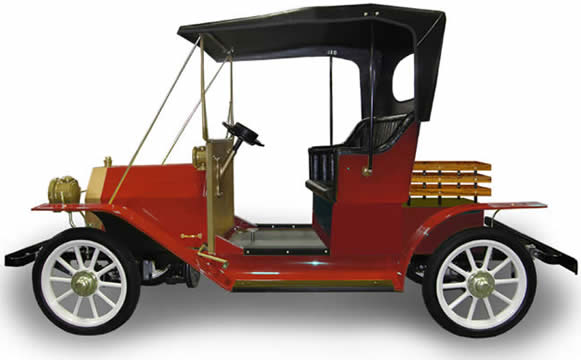 Vehicles should only be operated by qualified/licensed drivers on concrete or asphalt surfaces with a grade of no more than 6% up or down, and require a 25 foot turning radius. We do not certify that autos will meet any local automobile safety regulations for use on public streets. All costs for regulatory approvals and ensuring that the ride meets local building and safety regulations are the customer's responsibility.
New LED Surrey Pedals... Make your Surrey or bike stand out at night!
Now only $14.95 pair!

Extra discount when purchased with a Surrey!

Highly visible at night
LED lights generally last thousands of hours
Replaces regular 9/16 inch axle pedals
Adds safety and makes your bike look great!
THE IMPELLO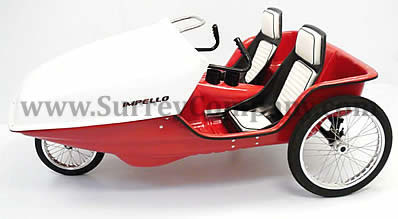 SORRY TEMPORARILY SOLD OUT!
The Impello (latin for "to set in motion") is an aerodynamic, two-seater that will include a seven speed transmission, differential rear axle, adjustable seating, disc brakes, future optional electric hybrid technology, weigh under 125 lbs and sell for less than any Surrey bike.
This model steps outside the bounds of the leisure cycle, rental business and into alternative transportation. With its three-wheel design, light weight aerodynamic body, 7 speed transmission and optional hybrid technology, this model is a "green" alternative for short trips around town previously reserved for the family car.
You won't find imitations of this model sold by importers with nothing to sell except what they find in a Chinese tradeshow. We make leisure cycles like the Impello while the other guys just make noise. This model demonstrates why we are The Surrey Company and everyone else isn't!
Click Here for More Information
NEW CUSTOM FRONT SURREY BASKET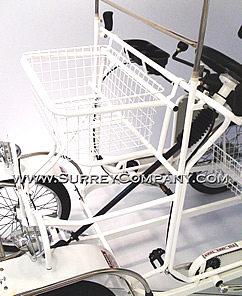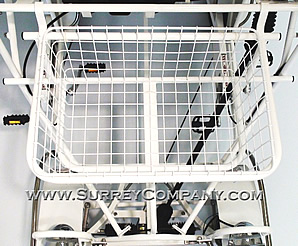 In addition to the rear Surrey Storage Basket, which mounts under the seat and is available as an accessory, the Surrey Company also exclusively offers the optional Front Surrey Storage Basket in place of the childseat for an additional charge.
CUSTOM SURREY COLOR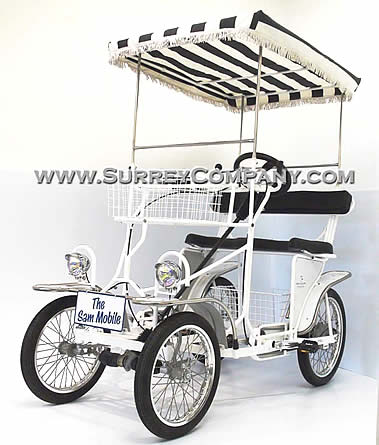 The Surrey Company also offers custom colors for an additional charge. The Surrey Deluxe™ pictured above in white and the Surrey Limousine Deluxe ™ can be ordered in virtually any color.
CUSTOM CREATIONS TO PROMOTE YOUR BUSINESS OR ORGANIZATION
If you are ever in Maryland, stop by Lilly Magilly's Boutique Cupcake Company (www.lillymagillys.com) in Gaithersburg or look for their custom pink Surrey Deluxe on the boardwalk and try a delicious cupcake.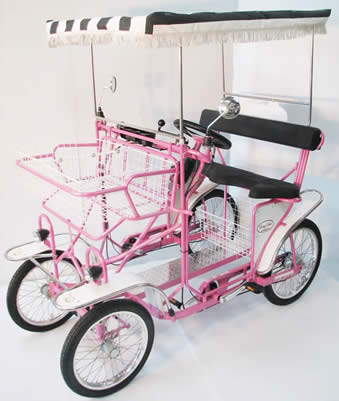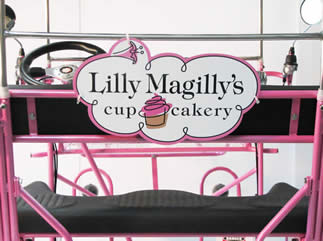 International Surrey Company has the creativity and unique expertise to create special and unique Surrey cycles to help promote your business, organization or cause, including corporate/organization color theme frames, awnings, custom signs and decals.
THE TBIRD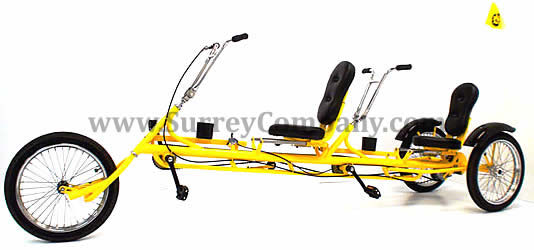 | | |
| --- | --- |
| | THE TBIRD is a tandem trike that will include an optional multi-speed transmission, differential rear axle, adjustable seating, and disc brake. The TBIRD is an addition to our ever-growing fleet of leisure cycles that offers a fun, exciting ride for your home or a profitable option to your rental fleet. |
THE CALIFORNIA CRUZER™
Click here for a brochure Cruzer Brochure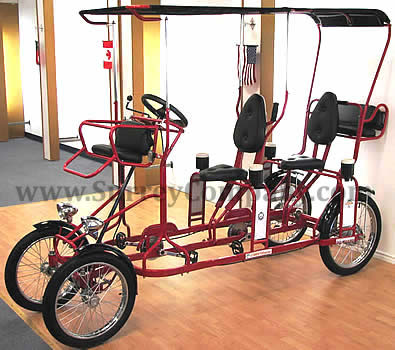 THE CALIFORNIA CRUZER is an addition to our industry leading line of recreational cycles. The California Cruzer features a number of patent pending features that revolutionize functionality and safety of multi person recreational cycles. Designed for two adults and two children, the California Cruzer offers "in line" cycling on comfortable seating and the advantage of a multi speed transmission. Our new "California" style convertible awning top allows the front and rear passengers to independently cycle in the sun or the shade.
THE ROAD RUNNER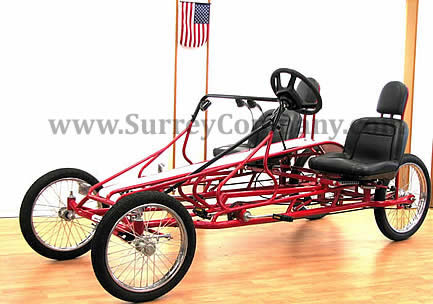 THE ROAD RUNNER is a recreational cycle that we have used at our affiliate rental locations for over a decade. Designed for two riders, the Road Runner offers comfortable, recumbent seating, a low profile and seven speed gearing for both the driver and passenger. The Road Runner is just another example of The Surrey Company's commitment to ongoing design and innovation. The Road Runner is available in red only with dual Easy 7 Speed Gearing System. Click the Buy Now button for details!


© 2006-2013 International Surrey Company Ltd. All Rights Reserved. Copyrighted.