EXPERIENCE: Our four (4) wheel Surrey bike (quadricycle) is designed with all the benefits of our history and rich heritage. When you purchase a two (2) person or four (4) person surrey bike from The Surrey Company, you are buying a four wheel bike that is widely recognized in the bicycle industry as the finest Surrey bike on the market.
DEDICATION: We are The Surrey Company. We are dedicated to designing, building and selling Surrey bicycles (quadracycles) and other leisure cycles. It is what we do better than all others.
INNOVATION: What is most enjoyable to us is taking what we know and using it to introduce new concepts and new designs. This is precisely why International Surrey Company LTD. is ahead of the curve. The Surrey Company is unique in this regard. Our dedication to innovation informed by our experience is what makes us the leader in the four wheel bicycle industry.
Please Watch Our Video to Learn about Our Company and Our Products
The new Hitch Hiker, the first electric pedal assist for Surreys of all makes and models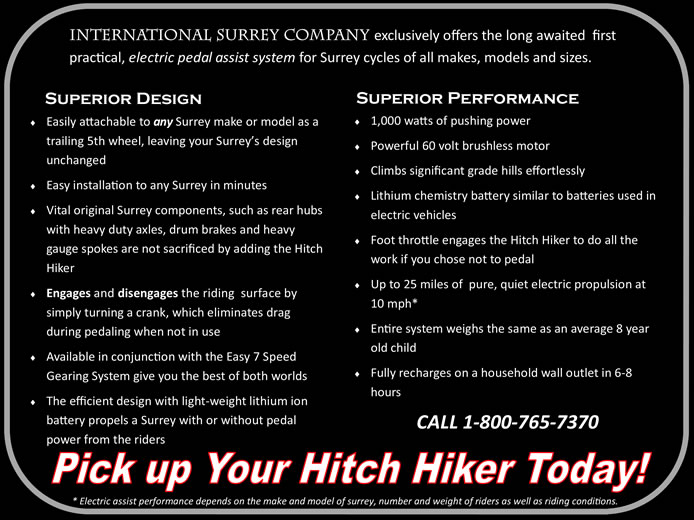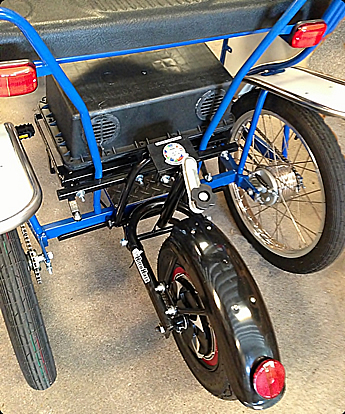 The new Hitch Hiker (patent pending) easily and inconspicuously mounts to any Surrey cycle, new or old, of any make on the market. The centrally mounted crank allows the riders to easily suspend the electric wheel off of the riding surface when not in use, eliminating all extra friction and rolling resistance. The entire system is self-contained and comes complete with a foot throttle and 5 amp charger.
Single Bench (2 pedaler model) Hitch Hiker $1,395 (additional accessory may be required)
Double Bench (4 pedaler model) Hitch Hiker $1,495 (additional accessory may be required)
Ships anywhere in the continental US for $95.00.
Call today to place your order!

CLICK THE ICONS BELOW FOR REPLACEMENT PART INFORMATION
International Surrey Company offers three different designs of the single bench and double bench models

(Single and Double Bench Classic Pro models, Deluxe models and Italian Sirenetta and Delfino models)

. We also offer two different designs of the triple bench models

(Deluxe model and Italian Grande Delfino model)

.
Some of the major differences and similarities among the models are: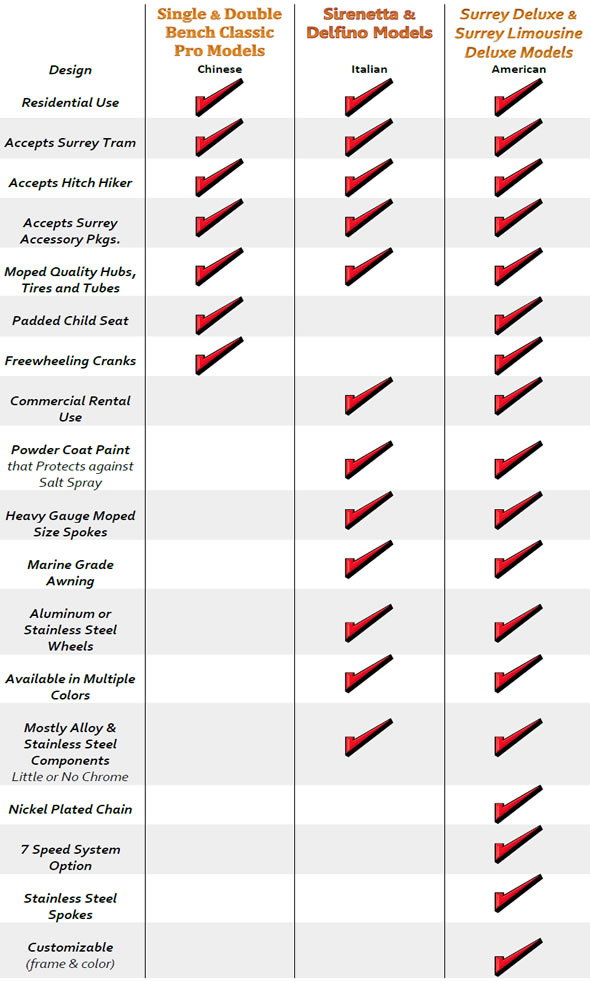 CLICK THE IMAGE BELOW TO PRINT OUR CATALOG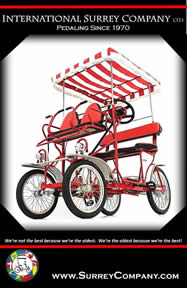 © 2006-2013 International Surrey Company Ltd. All Rights Reserved. Copyrighted.