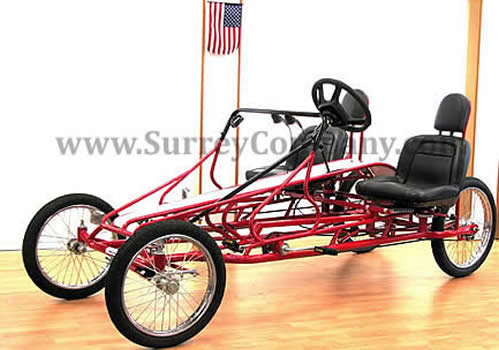 THE ROAD RUNNER is a recreational cycle that we have used at our affiliate rental locations for over a decade. The Road Runner was designed with an appreciation of our past and an eye to the future. The result is unique in its design and style with no equal.The Road Runner is just another example of The Surrey Company's commitment to ongoing design and innovation. The Road Runner is available in red only at this time.
Designed for two riders, the four wheel Road Runner provides couples, kids and friends with the ability to leisurely enjoy any park, boulevard, beach or lakefront.
At home, the Road Runner is perfect for families to enjoy their neighborhood, local city park and other areas suitable for bike riding.
Now with the exclusive Easy 7 Speed Gearing System on both sides for the driver and passenger along with the low, recumbent pedaling position, the Road Runner is the most enjoyable, easy pedaling four wheel product on the market.
The Road Runner includes the following features:
Aluminum alloy wheels with motorcycle stainless steel spokes
Reinforced steel frame
20 year powder coat bake on paint
Industrial rust proof chain
Available in red only at this time

And much more...
Ships mostly assembled.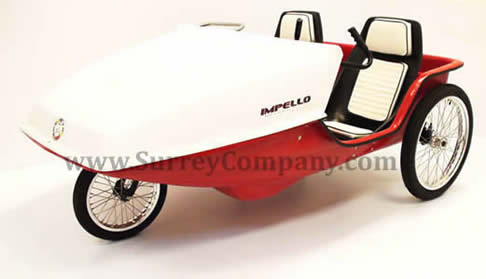 The Impello shown with optional white seat pads
The Impello™ steps outside the bounds of the leisure cycle, rental business and into alternative transportation. This model is a "green" alternative for short trips around town previously reserved for the family car. The Impello™is a reintroduction of popular concept with many vast improvements.
The Impello™includes:
a newly designed steel chassis
Easy 7 Speed Gearing Package
differential rear alloy steel axle
aluminum alloy rims and hubs
light-weight UV protected polyethylene and ABS components.
.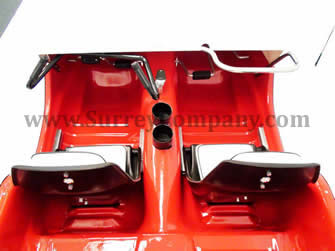 The interior of the Impello™ is spacious and includes two single drinkholders, adjustable seating and small storage areas behind each seat.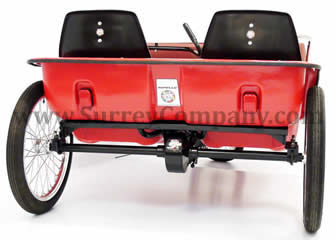 The rear of the Impello™ is stylish and boast a sleek profile and rear slip differential alloy steel axle.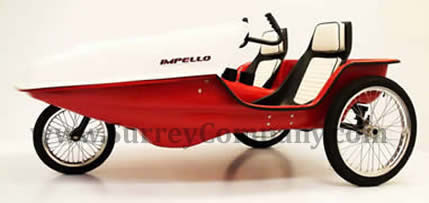 The aerodynamic profile of the Impello™ creates limited wind resistance that translates to a smoother, easier ride.
* All information is approximations and subject to change without notice

© 2006-2012 International Surrey Company Ltd. All Rights Reserved. Copyrighted.